Experience the feeling of fast charging 3 devices at the same time with the external rechargeable battery with the included charger cord Remax PPL-11 with a super compact design and special battery capacity up to 10,000mAh.
Ultra-thin, super compact design, easy to hold, carry.

Large 10,000mAh battery capacity.

Integrated 2 charging wires come with 3 Lightning, Micro and Type C ports.

Multiple charging ports are suitable for charging multiple devices at the same time.

The LED light shows the remaining battery capacity.
Reasons for possessing Remax PPL-11
As a new generation backup battery product from the Remax brand, the 10000mAh battery possesses an extremely impressive design, super convenient and special supports 4 outputs for the ability to charge 3 devices at the same time. large capacity edge. Make sure they will bring users an extremely interesting experience.
Super thin, super durable design
The first impression of this 10000mAh power bank is extremely thin and compact design. According to the manufacturer, the PPL-11 has dimensions of 136.8×71.5x14mm with a weight of 224g, quite small to help you hold and carry. Especially, with ultra-thin design, users can arrange them anywhere without taking up much space or entanglement.
The battery still uses the monolithic rectangular design with the surface covered with a stripe layer, for good stain resistance and anti-fingerprinting. At the same time, users can hold them firmly without fear of slippery or roughness in the hand.
The battery is machined from high-quality PC + ABS material, increasing durability but still ensuring light weight for rechargeable batteries. In particular, high-quality materials are effective against heat, ensuring safety for batteries, devices and users. 
Compared with other backup batteries on the market, Remax PPL-11 is equipped with 2 included charging cords fixed on the battery's body. When needed, unfold them and fold them when they're no longer needed. This makes the battery look cleaner. 
The cable ends are plated with shiny metal, good contact with effective rust resistance. Ensuring fast, stable, secure communication and data transmission with absolute compatibility with devices. To avoid folding, breaking or leaking electricity while charging while making the cable easy to fix around the edge of the battery, manufacturer Remax has used flat wire for the 2 cables that come. 
>> Refer to the Remax RPP-147 compact 10000mAh power bank, here .
In addition, this power bank is also equipped with an LED on the battery side to show the remaining battery capacity to help users actively recharge when the battery runs out, ensuring long-term, uninterrupted use. . 
4 output interface, support 2-way fast charging
Remax PPL-11 power bank is equipped with up to 4 output interfaces that are arranged extremely compact and easy to use: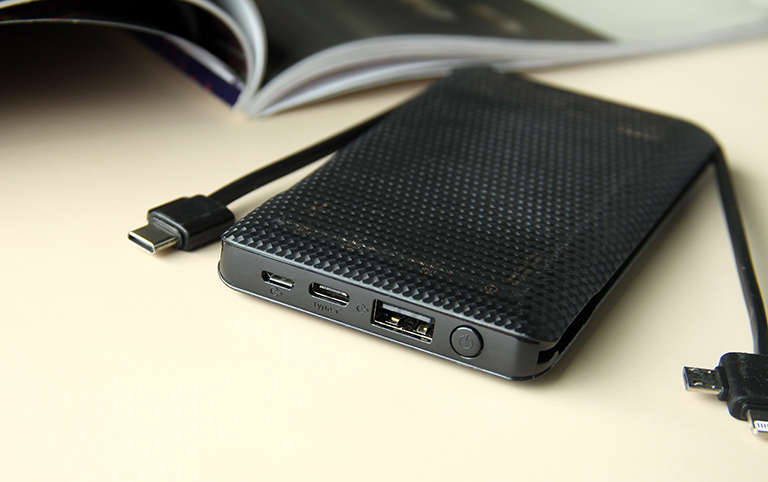 3 Lightning, Micro and Type C charging ports are arranged right on 2 charging cords to help users use always and immediately without having to equip any additional charger cord.

1 USB charging port is arranged right on the battery so users can comfortably use the type of charger they want with the standard USB port.
Thus, with 4 output interfaces, this power bank allows users to charge up to 3 devices at the same time, saving much more time. The USB port on the battery is capable of providing 5V-2.1A (Max) output, the Micro, Type C and Lightning ports for 5V-2A, 5V-2A and 5V-1A output respectively.
Large capacity battery
With a capacity of 10000mAh, users can comfortably charge their devices from 2-3 times. The use of Li-polymer type battery provides extremely good discharge performance and ensures a long life time for the battery.
Equipped with protection features
10000mAh Remax PPL-11 power bank is also equipped with high-quality circuit chip by the manufacturer, which is not only safe but also improves the effective conversion rate, providing more stable current.
Smart charging technology automatically senses the voltage so the battery can adjust the output current to suit different devices when actively giving the right power source while charging fast, while ensuring the device's battery is safe safety, avoid battery bottle, battery swelling. Thanks to that, this backup battery can be used for most phones, tablets, …
Besides, it is equipped with protection features such as temperature protection, short circuit protection, input overvoltage protection, output over current protection, over voltage output protection, battery protection against overload, hardware protection, … thereby ensuring the process of charging and discharging the device more safely. 
If you are looking to equip yourself with a power bank with charger cord, Remax PPL-11 will be an option worth trying. With an ultra-thin, ultra-compact design with the ability to charge 3 devices at the same time with the device recognition mechanism and smart chip, both ensure fast charging performance and safety for the user.