Ultra-high capacity: The massive 20, 000mAh capacity provides more than 5 charges for iPhone x, almost 5 full charges for Samsung Galaxy S10, and over 2 and a half charges for iPad Mini 5.
Advanced charging technology: Anker exclusive PowerIQ and Voltage Boost Technology combine to deliver an optimized charge to your devices, while the Trickle-Charging mode is the best way to charge low-power accessories.
Simultaneous charging: twin USB ports allow you to charge two devices at the same time.
Certified safe: Anker MultiProtect safety system ensures complete protection for you and your devices.
PowerCore Essential 20000


UPC: 848061059861
The travel-friendly design boasts a huge 20,000mAh capacity to keep multiple devices topped up for days, and with support for simultaneous USB charging, this is the ultimate combination of power and convenience.

Ultra-High Capacity

Simultaneous USB Charging

Universal Compatibility
Universal Compatibilty
Anker's PowerIQ technology provides optimized charging to virtually any mobile device.
Trickle-Charging Mode
Designed to meet the tiny power requirements of smaller devices, ensuring a fast and safe charge for every device, no matter the size.
Compact and Portable
At just 0.7 inches thick and weighing less than a pound, this is one of our most portable ultra-high capacity portable chargers.
Simultaneous USB Charging
Make the most of the 20,000mAh capacity to fully charge 2 mobile devices at the same time.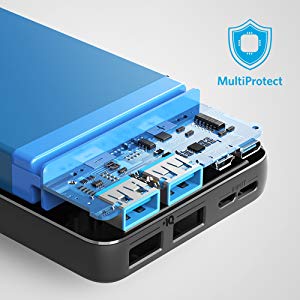 Comprehensive Protection
Our MultiProtect safety system combines high-voltage protection, current regulation, temperature control, and more to keep you and your devices safe.
The Anker Advantage
Join our family of over 50 million happy users, and change the way you charge.